Ebele Okoye [Omenka Ulonka]
I was 35 before I could accomplish a vision I had at age seven.  A proof that with perseverance and hard work, we can reach our goals even if takes a while.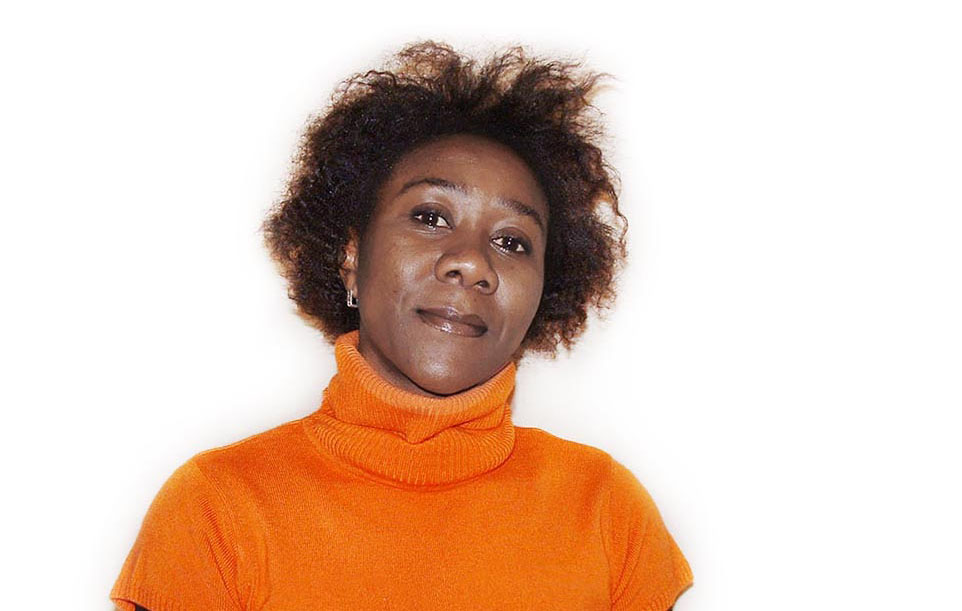 Born in Nigeria and migrated to Germany in the year 2000, I've been active as an independent Animation director and producer since 2006. Awards for my  films include the Robert Bosch Promotional Prize for Animation, DEFA Research Prize,  AFRIFF Globe Awards,  Ritter Sport Prize and "Redefreiheit" of Amnesty International.
A two time winner of the Africa Movie Academy Awards winner, I am the founder of "Shrinkfish Media Lab (smedLAB)", Nigeria's  first ever Animation training and "The Animation Club Africa"
I also run the intersectional, gender core and climate awareness labels Olomenka®, Kalodei Berlin® and Efulefu®
Ebele Okoye (who  goes by the artist's name "Omenka Ulonka") knew at the tender age of 7 that she wanted to be a "story teller who makes images move" but neither did she know that this was called 'Animation', nor were there any possibilities of learning this in her country Nigeria in those days.
In the year 2000, more than two decades later, she moved to Germany to pursue a post graduate program in African Studies at the University of Cologne. Followed by a design-study stint at the University of Applied Sciences Düsseldorf and a traineeship at the West German Broadcasting Corporation, WDR, she finally enrolled for Animation at the International Film School (ifs) Cologne.
Upon graduation in 2004, she worked as a studio animator before going independent with own films as well as International Co-productions, one of which is the German-Bulgarian co-production "Anna
Blume", winner of the 2007 Robert Bosch Foundation Promotional Prize for Animation as well as the Ritter Prize at the 2010 Zebra Poetry Film Festival Berlin, amongst others.
A two-time winner of the Africa Movie Academy Awards in the category Animation, her 28 minutes short "The Legacy of Rubies" (2015) inspired by an African folk tale, has won many prizes including the best Animation at the prestigious Africa International Film Festival (AFRIFF) same year.
Ebele's works, in their diversity always touch across different social niches, themes and culture. For instance: in 2016, her 'very short short' "The Man who fell up" from own poem of same title
premiered at the DOK Leipzig under "New German Animations". Later in 2018, the same film was chosen to represent Nigeria at 2018 Gold Coast Commonwealth games film screenings.
Over the years, she has evolved internationally as an active voice in animation and poetry film circles
working as Jury and selection committee member in festivals and programs like the Zebra Poetry Film Festival, Berlin/Muenster, Poetry Film Prize Weimar, Chitrakatha Students' Animation Festival, Ahmedabad, Madagassy Talent Film Residencey Berlin, Interfilm Festival amongst others.
Ebele Okoye, referred to many as "The mother of African Animation" says she is very passionate about imparting Animation knowledge, and pursues this teaching and giving workshops in different constellations which include The Bauhaus University, Weimar, Zanzibar International film festival, OpenToonz Animation Lab. Additionally, The Animation Club Africa, and Shrinkfish Media Lab (SmedLAB) both of which she founded in 2009 and 2013 respectively.
In January 2019, she started animating in virtual reality.
The multi-disciplinary artist who resides in Berlin since 2008 is also a seasoned Painter, Web & UI designer, Branding & Word press expert. She also is the founder of the intersectional, gender neut and climate awareness labels Olomenka®, Kalodei Berlin® and Efulefu® respectively.
Filmography
2020:"Lange innere Kampf" | Commissioned by the German Aids Help 4min. 2D Animation (Script writer/ Animator / Director)
2020:"LGBTQ social Workers" | Commissioned by the German Aids Help3.15min. 2D Animation (Script writer/ Animator / Director)
2020:"Dancing in the Street" by Martha and the Vandellas | Commissioned by Universal Music2:44 min. 2D Animation (Script writer/ Animator / Director)2020:
"Oil Promises" (Germany) 90min. Documentary (Co-director / Animator / Commentator
2017:
Marcas de amor (Germany /Spain) 3:00 min. 2D | Writer/ Animator / Director/ Producer
2016:
The Man who fell up (Germany) 2:00 min. 2D | Writer/ Animator / Director / Producer
2015:
"Red Fruits" (Germany /Austria ) 04:00 min. 2D, Music video | Writer/ Animator / Director / Producer)
2015:
The Legacy of Rubies (Germany /Nigeria / USA) 28 min. 2D | Writer/ Animator / Director / Producer
2014:
Die Liebe in den Zeiten der EU (Germany) 2D | Director / Co-producer)
2013:
Closer N' Closer (Nigeria/Germany) 06:00 min. Music video, 2D | Animator / Director / Co-Producer
2012:
Meine Heimat "My Homeland" (Nigeria / Germany) 05:00 min. 2D/3D | Animator / Director/ Co-producer
2011:
Footy My Love (Nigeria / Germany / Denmark) 07:00 Min, 2D Video Art | Writer/ Animator / Director / Producer
2010:
The Essence (Nigeria /Germany) 05:30 min. ,2D | Animator / Director / Producer
2009:
Anna Blume (Germany / Bulgaria) 09 mins. 2D | Writer/ Animator / Director / Producer
2009:
Patterns (Nigeria /Germany ) 10 mins. 2D | Writer/ Animator / Director/ Producer
2008:
Papermouse (Germany ) 2,5 min. 2D | CoWriter / Animator / CoDirector / Producer
2007:
Die Verrückte 'The Lunatic' (Germany ) 5 min. 2D | Animator / Director / Producer
Some Awards for own productions
2015:
Best Animation, Africa Movie Academy Awrads AMAA | Film "The Legacy of Rubies"
Over 8 other awards by same film "The Legacy of Rubies"
2011:
Redefreiheit (Amnesty International) Outstanding Media Work in Human Rights Issues | Film "Patterns"
2011:
Certificate of Special Recognition of outstanding service: United States Congress | Film: "The Essence"
2011:
Focus features Africa First Programe | Production & Distribution award for the film "The Legacy of Rubies"
2010:
Certificate of Special Recognition of outstanding service: California State Legislature, United States of America | Film: "The Essence"
2010:
Best African Diaspora Animation: ANIMAFRIK Animation Festival Accra Ghana | Film: "The Essence"
2010:
Best Experimental Animation. ANIMAFRIK Animation Festival Accra Ghana | Film: "Patterns"
2010: Ritter Sports Prize, ZEBRA Poetry Film Festival, Berlin
2010:
Most Outstanding Animation: Animae Caribe Animation & Media Festival Trinidad | Film "The Essence"
2010:
Best Animation Film: Silicon Valley African Film Festival | Film: "The Essence"
2007:
Robert Bosch Foundation Promotional Prize for Animation | Project: "Anna Blume" Germany/Bulgaria
Over 12 festival prizes won by the same film "Anna Blume"
2006:
DEFA Stiftung research prize for Animation | Project: "Feet Voters" Germany/Estonia
2008:
Honorable Mention/Animation: African Movie Academy Awards (AMAA) | Film "The Lunatic
2008:
Audience Prize: Made for Mobile Awards Cologne | Film "Papermouse"
Some Documentationen in Digital and Print media, include:
Deutsche Welle TV: "Der Tag mit Jens Olesen"
RBB Fernsehe "Mit der U-Bahn drch die Welt"
Deutsche Welle TV: "Insight Germany"
Deutsche Welle TV "Kultur 21 / Arts 21"
Deutschland Radio Kultur
Die Tageszeitung (taz)
Sächsische Zeitung
Kölner Stadt Anzeiger
Die Welt Kompakt
Poetry Film Magazine Weimar
Zeitgenossische Kunst in Nigeria und Ghana. Friedrich Reinhardt Verlag Basel, Sammlung Alfred Spinnler
Heinrich Böll Stiftung
CEO World Biz magazine
Globalia, Frauenmuseum Bonn
International Business Times Magazine
Cartoons 2; A world history book of Animation
Animatoon Animation Magazine
Nigerianbrands Magazine
The Guardian
The Punch
Weekly Times